Tai Chi
Interactive educational program for 42-form of The Yang Style of Tai Chi
Russina version
of this information.
Contents
Advantages.
What does it look like?
System requirements.
Samples of video from program.
More information.
About us.
What is it?
Tai Chi is one of the internal styles from ancient China. Nowadays, most of people practice it as an exercise for health. Slow, relaxed movements characterize this style. But the big power is hidden in these exercises.
It's an announce of new interactive educational program for 42-form of The Yang Style of Tai Chi. It can really help you, but before we begin let's try to think about other sources of information.
Advantages
You have approximately 3 ways to learn Tai Chi:
You can find Tai Chi classes;
You can buy a book;
You can buy a video record.
But now you can avoid a lot of disadvantages of these 3 ways by using our program. But what kind of disadvantages? What about these:
If you are going to take Tai Chi classes you need a particular schedule for it;
If you are going to buy a book, you lose the real movements and you can see only static pictures;
If you are going to buy a video record, try to imagine how easy it is to find the particular movement or position in the record;
And so on...
Now you have an alternative choice! There are some advantages of this program:
More then 1.5 hours of real time video;
The performance of the movement is alway the same;
You can see an explanation of each movement;
You can see each movement from two viewpoints;
You can control the speed of the video;
Form is separated onto basic movements for easier learning;
Full form is also available from two viewpoints;
You can learn how to use these movements for self-defense;
You can see exercises for two peoples working together;
You can improve your knowledge in the history of Tai Chi;
And advises of masters are also available for you;
And more, more, more...
What does it look like?
There is a screenshot of the program: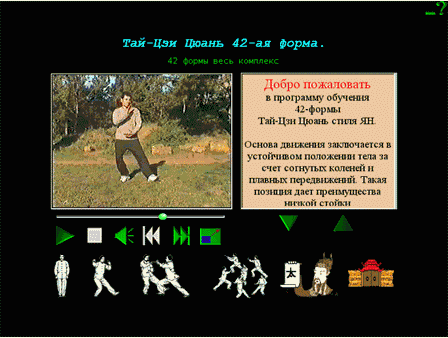 System Requirements
Windows 95/98/NT/2000/Vista;
CD-ROM with speed more then 2x;
Mouse. J
Samples of video from program
Samples are in the MPEG format with size 120x90
More information
These are sites with more information on Tai-Chi:

About us.
We are a group of people who spent more time in the gym then near TV set. This form of Tai Chi we learn from Sja Cin (he was twice a champion of China in wushu). We are not going to say that we are experts in Tai Chi, but this program includes the experience of 6 people and some of them are working with martial arts more than 20 years and the smallest period of involving into this area is 7 years. These number are very small in comparison with years of experience of Chinese old masters, but after 6 years of teaching people Tai Chi we have some thoughts that we showed in our program. If you need more info, please, write e-mail to us.